Tiny Paradise Now Casting
Does the tiny house you're building have a picture postcard worthy address? Will it have coastal curb appeal? Or scenic mountain magic? HGTV's new show, Tiny Paradise, is looking for couples, families and singles (w/sidekicks) who are building a tiny house... in a location that puts the scene in scenic! We're on the hunt for people who are just beginning or have recently begun building. The series will spotlight professional builders as well as DIYers who are customizing their 400 square feet or less homes to fit their own little piece of paradise.
To Learn more, send an email to whayesATdorseytv.com Please include your contact details, a photo of yourself and a brief summary of what you envision for your own tiny nirvana.
11/16

Earth Bag Build Volunteers - Grenada's Rainforest
GARDEN OF EDEN, GRENADA

Work/Stay Volunteer - Learn how to build Hyper Adobe with Earth Bags
6-8 week : Project Start Date July 01, 2016
We are putting together a team of hardworking volunteers with a sense of humour and adventure. You will work and learn while participating in the building of an EarthBag House in Grenada's Rainforest. This is a unique opportunity to experience our genuine Caribbean lifestyle - while also learning natural building skills. You will be immersed in the island culture and way of life. Working side-by-side with the locals and other international volunteers. And - toward the end of the project - we will celebrate Grenada's Carnival, an amazing island wide fete.

Jason and Laura will share their natural building experience with like-minded volunteers. We will be using the newly developed Hyper-Adobe Earthbag technique, along with clay plasters and earthen floors. Recycled glass bottle elements will be utilized along with other salvaged materials. We hope to work with local bamboo as well. The natural building techniques you learn will give you the skills necessary to build your own Earth Bag dwelling.
The building site is the spectacular slopes of Mt. Agnus, about 4 miles straight up from our seaside residence - Garden of Eden. Garden of Eden is a Seaside B&B, consisting of the Main House - where our B&B guests are accommodated - and cottages, where volunteers are housed. The cottages have comfy king-size beds, screened windows, private verandas overlooking the sea and cooling ocean breezes. Although the cottages do not have electricity or running water, they are quite comfortable.

REQUIREMENTS : Physically fit, hardworking volunteers with a sense of humour and adventure Experience is not required, but a good work ethic and keen interest to learn is essential. Tell us about yourself and your building skills/experience too. The team is expected to work 5-6 days a week for the duration of the project. Shared housing is provided. Meals provided - breakfast and one main meal. Limited spaces available. Please send us an email : lauraingrenadaATgmail.com Tell us about yourself and your building skills/experience too. A good work ethic and keen interest to learn is essential. Experience is not required. For additional information about the Building Project see - http://www.thepoosh.org/buildproject/laura-marecheau/hyperadobe-earth-bag-round-house

To have a look at Garden of Eden B&B and the surrounding area see https://www.airbnb.com/rooms/5452050?s
6/16
1/16
I am looking for a qualified Superadobe builder or team who has a serious interest in helping me turn project into a home I can move into. In order to get an occupancy permit from the Las Vegas Building Department, I must have a kitchen, a full bathroom, and 120 additional square feet of living space. In addition, I must have all exteriors, a 2-4 foot tall front fence, and final grading finished. I would like to utilize as much as I can of what has already been built. I am willing to change any of the originally designed & unproven passive systems for energy efficient conventional systems if it will be more cost effective. I am reaching out to the worldwide Superadobe community for proposals and bids to do this. I need a person or team with proven experience in managing & completing a multiple dome build with plumbing & electric.
See www.openarmsdomes.com for more infornmation.
1/16
OFF THE GRID BUILDS – CASTING CALL!

Are you a fun couple or family building your one of a kind, rural or off the grid dream home?
Tricon Films & Television is searching for groups, couples or families (ages 30-50) who want to build a unique, rural or off the grid home in the next few months, to be featured on a major US television show. We're looking for big personalities who are not shy in front of the camera and are just starting their rugged and one of a kind home construction in locations in Hawaii. The more remote, the better! Selected participants will receive significant contributions towards their build including material and labor discounts. If you think you're a good fit for this show, CONTACT US NOW! Please send us pictures of you and your group, bios and information on your upcoming project.
CONTACT US BEFORE OCTOBER 10, 2015 AT: castingATtriconfilms.com
9/15
My name is Dalia Dayan and I am in my fifties. I don't have anybody who can build an earthbag house for me. I believe that this is the most reliable house in any aspect. I am looking for builders (asap) to build a medium size earthbag house following one of the architectural plans that you provide on your sites. This house is to be built around Ithaca NY. Contact: dayandaliaATyahoo.com
9/15
Help me finish my dream! I have spent the last 7 years dreaming of building an earthbag dome in the tropics, and at last that dream is finally here. The project is located on the island of Hawaii (Big Island) and is a 12ft diameter dome of earthbag construction adapted to my area's rainforest climate by using scoria-crete fill. I have spent 28 days working on the project with at least one helper and the dome is now 2/3rds done. Trying to complete the project has helped me realize that we all need to work together if we want to see more earthbag structures built - it just becomes too hard when we try to do it all alone.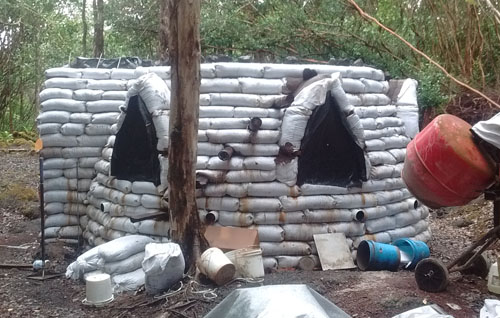 With that in mind, I am inviting any help-minded, get-r-done individuals or those who are interested in informal hands-on learning to bring their enthusiasm and effort towards the completion of a dream and another earthbag on the map. Let's stop dreaming about it and actually get something done! LOL Then I can start on my next earthbag project...

You would be volunteering your time in exchange for the same primitive camping conditions that I have enjoyed for the last 13 months. A typical work day would be 2-4 hours (weather permitting) leaving you plenty of time to enjoy the surroundings or explore the island. Desired timeframe would be September 24th - October 15th, however that is flexible and there will be future projects. Bring a friend if you like...

Those interested can contact Jeff Walker at jfrywalkerATgmail.com All types of help welcome, all types of questions welcomed. Let's work together and change the world (or at least help one 'homeless man' stop living in a tent, and start living it a dome!) Mahalo!
9/15
I want to learn how to build with earthbags, and I know that I learn best and fastest when hands on. Do you know of any place where people might need volunteers to help build earth bag structures? I am in Charlotte, NC, but I could potentially travel for a bit to get my hands dirty, help out some folks, and learn a bit. I'd be available to help in September of this year and then again from November on.
Louis Gurgitano: zebraplayerATyahoo.com
7/15
Who learns skills for free? Interns who assist aid organizations. Learn and serve in the US only or here and overseas as well. Build Simple Inc. offers free training in construction and design of geo-textile buildings like earthbag and straw wattle or techniques like Ubuntu-blox that use agricultural waste or plastic trash.
Two weeks of training near Albuquerque, NM is being scheduled for early July, with repeat dates in September. Help BSI to advance building knowledge about alternative techniques while you learn. Builders, photographers, building designers, and service team leaders can all contribute needed skills. Engineers and engineering students are especially needed to test structures- ask about donating a day or getting involved in an ongoing study.
After training, go to your aid project, or connect with one of BSI's partners. Interns are needed to spend a few weeks to a few months working with aid organizations in Haiti, Thailand, or other parts of the world. Tell simple_earth what aid groups you're working with and when, to see how we can help you.
Patti Stouter
Build Simple Inc.
www.BuildSimple.org
Sustainable Inexpensive Building Design, Training and Testing
12 Juniper Road, Placitas NM 87043
ph: 505-312-7163
simple_earthATyahoo.com
5/14
Team member/volunteers wanted! We are building domes around the world for eco villages - and resorts, disaster relief projects and individuals. Can offer both internship/apprenticeship programs and volunteers are very welcome. For more information, visit our website at www.evolotecture.com.
4/14
I have surplus 14" & 18" rolls of woven PP tube available. Rolls are 6000/lf long priced at $840 & $960/ea sold by the roll only. They are UVI stabilized for 2000 hrs. Price is FOB my facility in Southern California. They are perfect for earth bag building! Thanks Steve 949-338-5978 tubedaddyATmsn.com
3/14