Photos from a 9-day workshop held in Thames, New Zealand. These were short days and many rain showers slowed us down!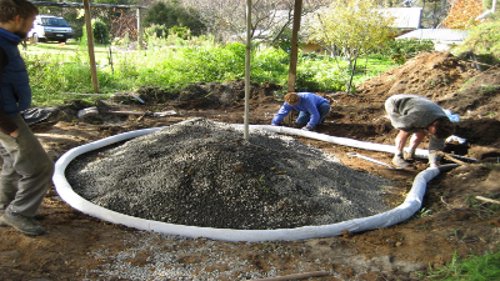 Making the foundation drain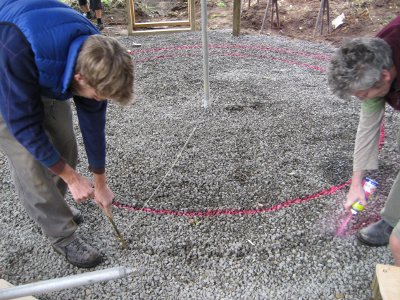 Using the compass to make out the walls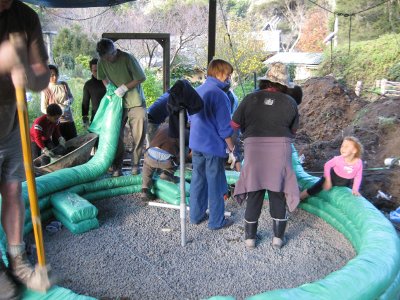 Beginning work with the earthbags. We used local clay and purchased sand. We had to use portland cement in the bags too, as it was so wet that there was too much water in the mix, and it just went to jelly when we tamped it.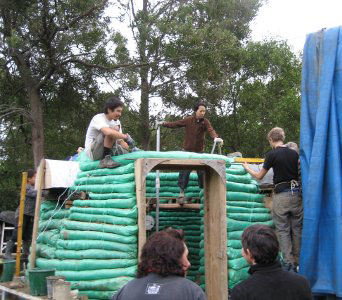 The frame for the door is in!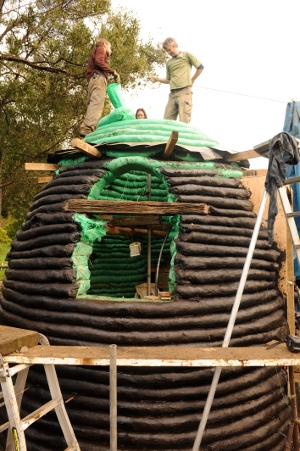 Nearly at the top. The black is waterproofing paint.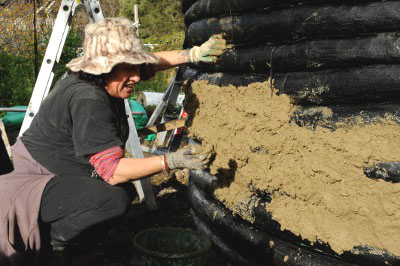 Rough plastering begins, using earth and lime.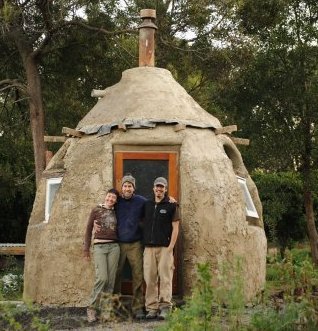 Neil, Stella and Bomun after 9 winter days.
In July 2009 Guiding Star Creations co-created this 9 day workshop with hosts Eric and Nancy. This dome was build as a WWOOFer's (farm stay) cottage for Eric and Nancey's 14 acre organic farm. The dome has a 3m(10ft) interior diameter and the walls are 30cm(1ft) thick. This dome was fitted with features to adapt dome building to wet climates. Theses features include a rap-around eave, cold application bitumen (asphalt emulson) waterproofing, interior door buttressing, and a ruble trench foundation with perimeter drain (French drain). Other features include a clay floor, cantilevered stairs, loft (mezzanine floor) bed space, and wood stove heating. Many thanks to the workshop participants who's efforts and collaboration made this dome possible.