EarthbagBuilding.com
Sharing information and promoting earthbag building
.
.
Mickey Mouse in Morelia, Mexico
by Krpasundarananda

Krpasundarananda is a Meditation teacher with Ananda Marga and has been a Monk since 1991. His first assignment was in Australia, then he was transferred to New Zealand where he worked for more than eight years teaching meditation at the universities, renovating a meditation center, organizing yoga weekends and setting up (and renovating) a retreat center. Then in 2000 he was transferred to Africa where he started to make newsletters like what is posted below. Though his main job is to teach meditation and help people to realize their spiritual goals, in many cases people don't have the minimum necessities of life, so social service has become important. As his background is engineering and he always had an interest in construction and alternative energy, he got involved with alternative building through an article someone forwarded him about Nader Kalili. In the last few years he has built many domes in different places around the world.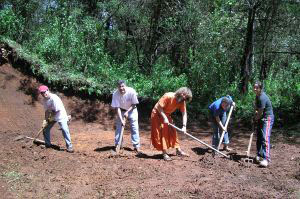 Clearing the land for the dome
Continuing work on the dome in Morelia.
| | |
| --- | --- |
| | |
| Testing samples of the mix for the domes. | The first layer. |
We should get sponsorship from Disney Land...
Mickey Mouse is easy to recognize. Oops, they may charge us royalties.
| | |
| --- | --- |
| | |
| Morelia Master Unit in Mexico | Lizard hiding between the layers of the wall |

Back to Morelia, Mexico where a completely overgrown half finished dome is waiting for a few more layers... The weeds definitely grow a lot faster than our dome.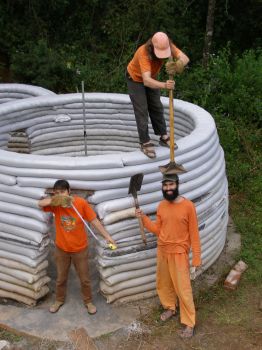 Actually more than a few layers done.
Yes, it's done... not the dome... that's to be continued in 2007...

.
.
Disclaimer of Liability and Warranty
We specifically disclaim any warranty, either expressed or implied, concerning the information on these pages. No one associated with this site will have liability for loss, damage, or injury, resulting from the use of any information found on this or any other page at this site.
For Email contact go to About Us
We are interested in communication from others who are exploring the possibilities inherent with earthbag building.
Visit Our Other Websites:
www.greenhomebuilding.com
www.dreamgreenhomes.com
www.naturalbuildingblog.com