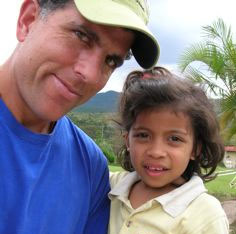 I was first contacted in the summer of 2006 by a member of the Lamb Institute which is a non-profit 501 c3 based in South Carolina. This particular person had been living in Honduras for the past 14 years working as a missionary there with Lamb, so it was an established organization.
Lamb runs a school, an orphanage, and a community outreach program. At the time they had a copy of Doni and Kaki's book, and they expressed a desire to use earthbags due to their increased sheer potential and flood resistance. I agreed to consult with them on a volunteer basis. I went over the materials list and tools list with them and described a workable foundation.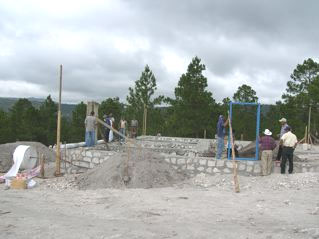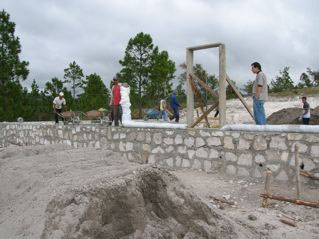 At some point they put me in contact with their architect who spoke poor English. I never did receive a drawing, but I surmised the size to be smaller than it actually turned out to be. As the time drew near to their breaking ground, one month to go, I broke my left leg. As it were, they really wanted me to go, and not only was my leg broken but my wife was pregnant. They offered to pay my way, and so the deal was set. So a week prior to leaving I was able to convince my doctor to take my cast off.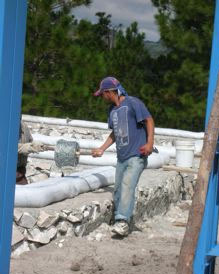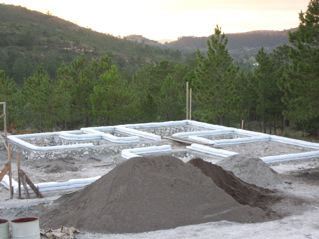 I arrived in Tegucigalpa on a Friday, was shown the site 26 km outside of the city, and I was shocked by the size of the foundation; not only was it over-built (a meter wide) but in scale it was 40'X 60', or about 2400 sq ft...with three large interior bed rooms, two bathrooms, a kitchen and a utility room.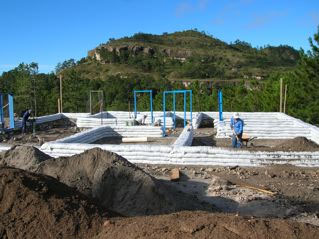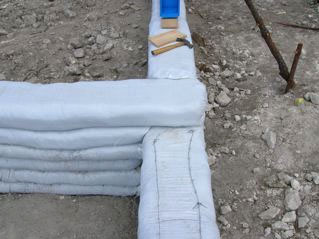 It has 9 doors and 14 windows. All the doors and windows where welded that first weekend and we started to fill bags on the Monday. Incidentally, they where impeccable at getting all the materials and tools I had asked for on site.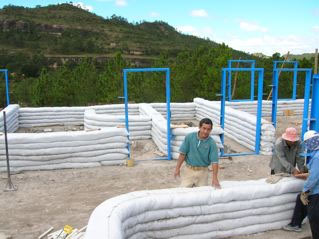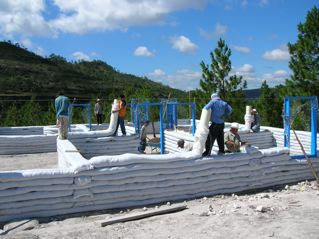 The crew was made up of myself with interpreter, a site contractor, 20 men (laborers) aged 16 to 60 or so and their lead guy. They were all good workers, although adobe and concrete were their specialty and wrapping their heads around earth tubes was amusing for most of them.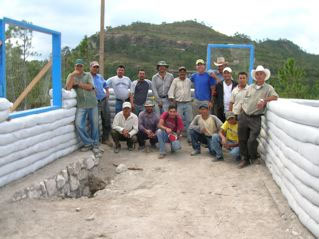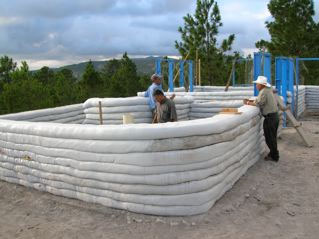 We were able to get the walls up to almost roof level by the time I left--10 days later. The roof was of steel, and the bond beam was re-enforced concrete with corner pillars of the same connecting to the foundation. The plaster is earthen as far as I know. The children now live in the structure. They went on to build two more buildings of the same size out of adobe brick.