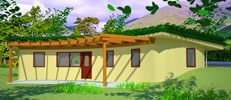 Arc House Defined by an arc, this gently curving house uses passive solar design to capture the sun's energy during the day and then store it in its interior mass to stabilize interior temperatures, even in cold climates.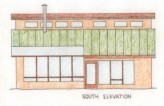 Baca Hybrid This 2 bedroom, 2 story (3 levels), 1250 sf (to the outside) house was designed as a hybrid, passive solar model. It is a compact design that incorporates many aspects of sustainable architecture, including an attached solar greenhouse, a naturally cooled pantry, and the use of some natural, local materials (earthbags and strawbales). The appearance is fairly conventional, but it does have a curved north wall.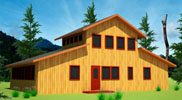 This Barn-style House is easy to extend lengthwise in the future. The south-facing shed wing can be finished to client preferences. A larger dining area, grow space, rec room, garage, or even an extra bedroom are all possibilities. 1,260 sq. ft. interior plus 246 sq. ft. upper floor (1,506 sq. ft. total), 3 bedroom, 2 bath; footprint: 33' x 46'
Features of this Beach House include a deck and large window wall that faces the waterfront, and screened porch in the rear. Designed to weather hurricanes and other extremes of ocean-front property - a perfect application for earthbags, which far surpass most other building materials.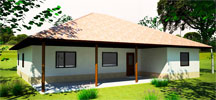 This Beachcomer House is perfect for most large families. It has spacious bedrooms with computer desks, a large modern kitchen and wood stove. The master bedroom features a walk-in closet and private bath, and is opposite from other bedrooms for privacy.

This Carriage House was initially designed to create garage and shop space, as well as office and storage space for the designer's personal use. There is potentially about 900 s.f. of usable floor area on two stories. It is a hybrid design, utilizing earthbags plastered with papercrete, a steel prefabricated Quonset-style vault, concrete floor, and wood-framed end walls.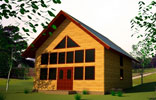 Designed for the mountains, this vacation Chalet has a large window wall and deck facing the mountain view. The master bedroom bedroom is on the upper floor. 672 sq. ft. interior plus 135 sq. ft. upper floor (807 sq. ft. total), 2 bedroom, 1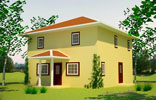 This sustainable home design is named after one of the most productive agricultural regions in the world - Chonburi, Thailand. Rich with old world charm and character, it has a tiled hip roof, covered entry with columns, arched doorways, large country-style kitchen, and all bedrooms upstairs for privacy. Master bedroom has private bath and love seat. Designed for hot climates, this plan can easily be modified for cold climates.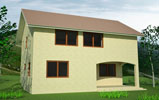 Classic country design and detailing make this a beautiful and comfortable Country House. Instead of a large porch, it be enclosed for a greenhouse and passive solar. 1,032 sq. ft. interior, 2 bedroom, 2 bath; footprint: 27' x 35'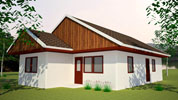 Ideal for urban or rural areas, this Cozy Cottage is the right size for new families, or for retiring couples who want to downsize. Features include a laundry room with mop sink and closet, kitchen island with breakfast bar, built-in bookcases/entertainment center, wood stove, on-demand water heater and a pleasant dining nook.
This Craftsman plan has all the amenities of a larger home, in a compact space. 814 sq. ft. interior, 3 bedroom, 1 bath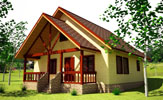 This Crow Design has a cathedral ceiling over the main living space, wood stove, passive solar design and large porch on the west to block the hot afternoon sun. There is a good-sized loft over the bedrooms and bath. 728 sq. ft. interior plus 366 sq. ft. loft, 2 bedroom, 1 bath; footprint: 29' x 31'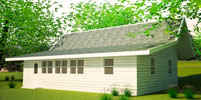 Classic mid-west styled farmhouses are extremely practical. This particular Double Wide Farmhouse design includes 10.5' high walls on the north half, shed roof on the south half, loft over the bath and bedroom, single framed wall down the center. This is a good design for building in stages, including adding additions later.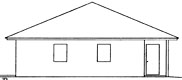 This Duplex plan has an adobe center wall for thermal mass, noise reduction and beauty. Adobe for the center wall is just one possibility. Stone, earthbags and cordwood are all good choices. 819 sq. ft. interior, 2 bedroom, 1 bath; footprint: 15' x 35' (one unit), 30' x 35' (two units)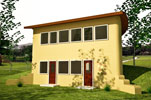 Earth-bermed Natural House Here's a dirt-cheap energy-efficient design. Features include a loft for sleeping and office space, and south-facing windows for solar gain and daylighting. A sloped living roof and earth berming helps the natural house blend into its environment. 287 sq. ft. interior plus 287 sq. ft. loft, 1 bedroom, 1 bath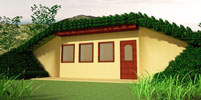 Based on ancient Native American designs, this Earth Lodge with living roof will keep you cozy and warm even in the harshest climates, because it is earth-sheltered. South-facing windows and a skylight over the kitchen ensures ample daylighting.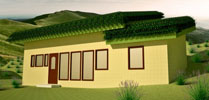 The Earthworm Studio was custom designed for a client who wanted total concealment by building into a hillside and using living roof and living walls. They also requested minimal environment impact and lowest possible cost off-grid design. 662 sq. ft. interior including bedroom loft, 1 bath; footprint: 18.5' x 39'.
Emergency Earthbag ShelterProposal, by Dr. Owen Geiger and Patti Stouter, ASLA. The building concept outlined here consists of sandbag (earthbag) walls filled with sand or soil from the site, and tarps for roofing. These emergency shelters would only be slightly more expensive than tarps by themselves, but provide superior protection against wind, rain, heat, cold, snow, bullets, fire, flooding, hurricanes and noise.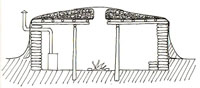 This Emergency Shelter was designed by Kelly Hart and Dr. Owen Geiger as a response to the 2005 earthquake in Pakistan. The challenge was to provide quick, safe, decent shelter with minimal tools and supplies to sustain life through the winter. It could provide more permanent shelter with modest modifications.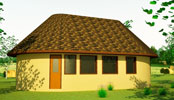 English Cottage This charming curved cottage is styled after homes from a bygone era, when rugged timbers supported the roof and walls were reassuringly thick and strong. This modern cottage adds a spacious kitchen with pantry and island, passive solar design, built-in cabinets and computer desk. 834 sq. ft. interior, 2 bedroom, 1 bath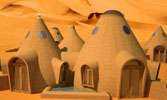 Enviro Earthbag Dome An ideal starter home, this plan is easy to extend or even create large dome clusters. Compact, but highly livable, the Enviro Dome has everything you need. Two lofts add 235 sq.ft. extra space for sleeping, home office, living or storage. The enviro dome is perfect for the beginner do-it-yourselfer who wants to build their own eco-friendly home at the lowest possible cost.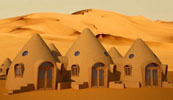 The Enviro Dome 2 is the same plan as above, except there is a second bedroom dome and closet added on the right. Compact, but highly livable, the Enviro Dome 2 has three lofts with extra space for sleeping, home office, living or storage.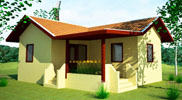 This Farm Guesthouse provides housing for your guests in style. It is compact, yet highly efficient and comfortable. Features include a generous kitchen, country style kitchen table and large covered patio. A vine covered pergola dresses up the south side of the house and helps keep it cool. 343 sq. ft. interior, 1 bedroom, 1 bath; footprint: 23' x 27' plus pergola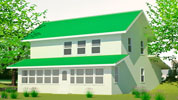 This classic Farmhouse design can be built in two phases: 1. Main two-story structure; and 2. Shed roof addition with family room and 3rd bedroom, with excellent passive solar gain. 928 sq. ft. interior plus 512 sq. ft. upper floor (total 1440 sq. ft.), 4 bedroom, 3 bath; footprint: 32' x 35'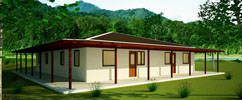 The Fourplex is a potential investment property that features numerous sustainable building features, including earthbag walls, superinsulation package, and compact and efficient design. Four units, each 462 sq. ft. interior, 1 bedroom, 1 bath; footprint: 48'x48' plus 8' wrap-around porches

This Garage/Apartment is practical and affordable. It's ideal for use as a rental unit or grandparents apartment. A two car garage, shop, storage area and optional laundry are on the first floor. 525 sq. ft. interior apartment, 715 sq. ft. interior garage, Footprint: 30' x 34'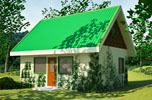 This small Green House has 'green' walls and a living roof. Plant covered buildings are very practical, because they can save materials and finish work, reduce heating and cooling loads, oxygenate air around the building, as well as provide habitat for wildlife, buffer noise, etc. This house was designed for two university students who are concerned about the environment.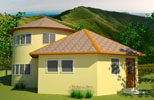 In this unique design, a two story roundhouse adjoins a hexagon. The Hexagonal/Round House features include a large bedroom in the round, a wood stove insert built into a central stone column, and a large loft above the bedroom for use as a home office, etc. 18' interior diameter roundhouse = 254 sq. ft., roundhouse loft = 248 sq. ft., 20.5' hexagon = 372 sq. ft., total = 874 sq. ft. interior; footprint: 28' x 44'
This one and a half story Hobbit House features drop-down stairs that lead to a spacious loft, wood stove heating, and modern kitchen with pantry space for Hobbit food. The undulating thatch roof or living roof is created by varying the knee wall height above the bond beam. 24-6" diameter with 471 sq. ft. interior, 471 sq. ft. loft, total 942 sq. ft. interior, one bedroom, one bath.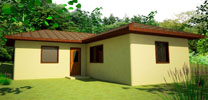 The main characteristics of this L-Shaped House include efficient use of space, while offering basic necessities and a few extras like a wood stove, good-sized computer desk and passive solar design. 552 sq. ft. interior, 1 bedroom, 1 bath; footprint: 32' x 32'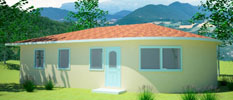 This Mediterranean House has curved walls, a common plumbing wall, large closets and wood stove. 832 sq. ft. interior, 2 bedroom, 1 bath; footprint: 27' x 41'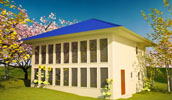 This Modern House features a stunning 30' wide by 2-story window wall to face the mountains, lake or other view or collect passive solar heat. A large grow bed provides year-round growing space for flowers, dwarf fruit trees, tomatoes, herbs and other plants. 840 sq. ft. interior plus 390 sq. ft. upper floor (1230 sq. ft. total), 3 bedroom, 2 bath, home office or bonus room
With these Modular Pods you can configure them in many ways, with as many as you want. Pictured is the simplest two-pod model. This enables the home to be built one stage at a time, with tremendous versatility in room arrangement.

Mountain Cottage Excellent solar gain, superinsulated earthbag walls filled with insulation, and interior thermal mass make this home ideal for cold mountain climates. 638 sq. ft. interior plus 638 sq. ft. upper floor, 3 bedroom, 2 bath

The Native Spirit house plan blends a hexagonal dwelling with a soaring tower, all built of earthbags. The first floor of the tower serves as a cool pantry that keeps food cool without electricity. Other levels can be used as office space, a second bedroom or storage. The top level is an observation deck - truly a stunning feature in such an affordable home. 565 sf interior, plus 291 sf tower (4 levels) for a total of 856 sf.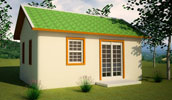 Building codes vary from region to region, but this backyard office may not need a building permit because it falls below the minimum floor space requirement of 200 sq. ft. It is only 199 sq. ft
Anyone can build this simple Peace Dome which contains all of the necessities for habitation. In addition to the basics, you could incorporate solar hot water, greywater recycling, composting toilet (shown, although a flush toilet can be used) to further reduce your ecological footprint. There are hot/cold, wet/dry climate design options available.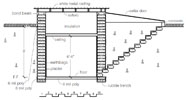 These free Rootcellar plans (posted right on the page) feature: Standard 15" earthbag walls with lower courses filled with gravel (18"x30" bags or tubes); Optional insulated room with 12" walls for a freezer; Superinsulated shed roof; White metal roofing to reflect sunlight; Earthbag steps covered with cement plaster; Cellar door to keep rain and snow off the stairs (and prevent flooding)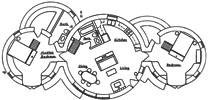 In this Roundhouse/Dome Cluster there is a 2-story roundhouse in the center with either domes or more roundhouses on the east and west. There is a possible third bedroom, game room or home office in the roundhouse loft, 2 baths, separated bedrooms, large walk-in closets, dining area next to the windows, and lots of south-facing doors and windows.

The Roundhouse Studio is perfect for home offices and studios of all kinds, and also as a tiny house. Ideal beginner's project. This studio is one of the simplest, most practical of Owen's designs. Multiple units can be connected if you want to add on later or they can be built as free standing structures in clusters pavilion style. Numerous roof options available.
10 meter Roundhouse 10 meters (33') diameter is the maximum size of a round earthbag structure before needing buttressing. This spacious design features a large kitchen and south-facing window wall for excellent solar gain. 855 sq. ft. interior, 1 bedroom, 1bath

This 1.5 Story Roundhouse features two large bedrooms with spacious closets, efficient kitchen and loft for home office or 3rd bedroom. The inner circular wall is built of recycled brick for strength and rustic effect. The loft has a 3' circular skylight and a knee wall with view to main living space on first floor.

2-Story Roundhouse This charming roundhouse has everything you need within easy reach on the main floor, and a comfortable bedroom loft above with large closet and seating area next to the balcony railing. 452 sq. ft. interior plus 226 sq. ft. loft, 1 bedroom, 1 bath

2-Story Roundhouse above Survival Shelter It's prudent to have a safe place to go to in case of emergencies, and what better place than your basement. Hurricanes, tornadoes, blizzards and other natural disasters are all too common. While others panic and run for last minute preparations, you can calmly retreat to your basement (through a hidden trap door) that's wisely stocked with everything you need to ride out the disaster.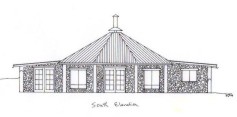 Sacred Mountains This is a 2 bedroom, 1 story, 1725 sf (to the outside) house that is designed around the traditional hogan concept of Southwestern native Americans. This was originally designed as a demonstration home for a variety of natural building techniques, so that it employs cordwood, strawbale, adobe, rock, earthbag, and timber-frame aspects.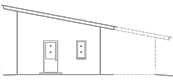 Here's a highly flexible plan for low-cost Shop with Office space with excellent passive solar design. The office can be added later, and there is an optional storage room on the north. 270 sq. ft. interior shop and 158 sq. ft. office
How to Build a Small Earthbag Dome A free, step-by-step description of how a 14 foot diameter earthbag dome was created. This prototype dome could serve as a model for emergency shelters, cabins, studios, garden sheds, etc. It should work well in earthquake-prone areas and places subject to flooding, winds, and hurricanes. This description is presented in three parts.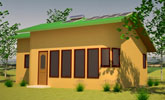 The Solar Cabin is small and simple, yet it has ample size and all the comforts for off-grid living. Features include passive solar design, large loft, grow bed and modern kitchen. 622 sq. ft. interior plus 273 sq. ft. loft, 1 bedroom, 1 bath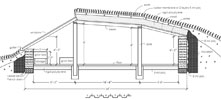 This modern Solar Pit House is based on the traditional pit house. The construction is much the same. Additional 'modules' have been added to create an elongated rectangular design for added living space and windows added on the south for solar gain. This plan is available for free!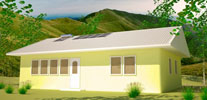 This Solar Ranch House is a very livable and comfortable, this solar ranch has vaulted ceiling in the great room, a modern kitchen and wood stove. 805 sq. ft. interior, 2 bedroom, 1 bath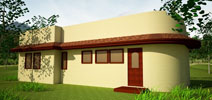 In addition to charm, this Solar Santa Fe home is designed to optimize passive solar. A tiled roof along the south side is sized to prevent overheating in summer, but allow maximum solar gain in winter. Quality detailing is evident throughout - open, comfortable layout, rough-hewn posts and vigas (round roof timbers), built-in bench and kiva-style fireplace (or wood stove insert).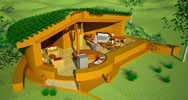 This unique earth-sheltered Spiral design includes a large grow bed, exposed timber ceiling and living roof. 740 sq. ft. interior, 1 bedroom, 1 bath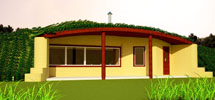 This unique earth-sheltered Spiral 2 design includes a large grow bed, exposed timber ceiling and living roof. Ample light is provided by the window wall next to the grow bed, window and door glazing, and suntubes. Distinguishing features include two bedrooms, masonry two-way fireplace, covered porch and cool pantry for storage of food.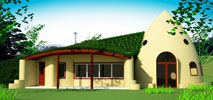 The Spiral Dome Magic homes combines the Peace Dome and Spiral Houses, which are also available separately. But by combining them it really creates a truly exciting design. This unique, almost Hobbit-like earth-sheltered design includes a large grow bed, exposed timber ceiling and living roof. 452 sq. ft. interior dome, 740 sq. ft. interior spiral, plus pantry, 2 bedroom, 1 bath

Subterranean Survival Shelter This round earthbag shelter for up to 4-5 individuals is designed for survival through war, plague, etc. It is low cost, durable and practical. 20' DIA (314 sq. ft. interior plus pantry)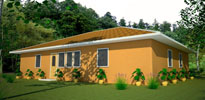 This Summer Breeze House does well in hot climates, but would also have some solar gain in northern latitudes. The center section has extra windows on each end to allow breezes to flow through the house. Features include a large master bedroom with private bath access, laundry, breakfast bar, wood stove and built-in cabinets.
'Sweet Spot' refers to a great place to live as well as a good, efficient design. The Sweet Spot is designed from the inside out using all standard sizes for maximum comfort and convenience. This includes a large bedroom with desk, a standard 5' bath with bathtub, large kitchen with standard sized frig and sink, and large living room and dining area. There is an addition for the south side of Sweet Spot. It adds two extra bedrooms and more living space.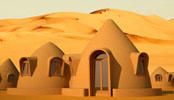 Like other tiny houses, Tinyville provides just the basics in a compact space. It is intended as a starter house for those with little or no building experience and very little money. This design joins a 13' interior diameter main dome with loft and a 10' interior diameter small dome, with a vaulted passageway.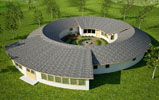 The Torus Design concept was inspired by the movie Thrive, which outlines ways of creating prosperity and equality in the world. The design brings together three emerging trends: increasing self sufficiency — including renewable energy and food production, families moving back together to save money, and sustainability. 2,224 sq. ft. interior, 564 sq. ft. greenhouses, 1,520 sq. ft. courtyard, each side has two bedrooms, two baths.

This intriguing Tower House slopes from 21 feet interior diameter at ground level to 13 feet diameter at the upper deck. Perfect for environments with high winds and good views. 346 sq. ft. interior first floor, 227 sq. ft. upper floor, 133 sq. ft. observation deck, 623 sq. ft. total interior; footprint: 24' diameter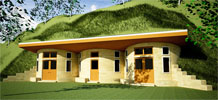 This Triple Roundhouse Cluster design connects three sloped roof roundhouses and adjoining closets to create a unique roundhouse cluster design that is earth-sheltered on three sides - east, west and north - with a sunny courtyard on the south. 785 sq. ft. interior, 2 bedroom, 1 bath; footprint: 28' x 58' plus buttresses.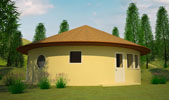 This spacious Two Bedroom Round House design features a large master bedroom with desk and walk-in closet, efficient kitchen and south-facing window wall for excellent solar gain. 855 sq. ft. interior, 2 bedroom, 1 bath; footprint: 36' diameter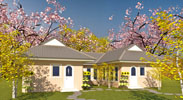 This pleasant U-Shaped home looks inward to an inviting flagstone courtyard with trees and plants. Spacious windows fill the home with light, while the earth floors, earth plaster and earthbags provide thermal mass to store excess heat, thus providing an even, comfortable inside temperature in moderate climates.

This Wilderness Cabin design is for remote fishing and hunting camps where it is difficult to transport building materials. It is compact, efficient and easy to build. A sleeping loft is under the high side of a shed roof. Note: Pier footings are shown here for sloping sites, but with earthbags it is usually easier to build right on the ground.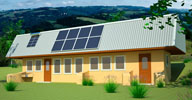 Zero Energy One is a major step forward in sustainable housing. This revolutionary design features zero net energy use, extremely low 'near zero' embodied energy and extremely low cost. This design is the result of years of research in energy efficiency and low cost, alternative building methods.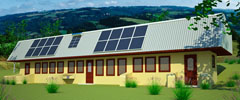 Zero Energy Two is similar to the Zero Energy One plan above, but it has two bedrooms and 2 bathrooms, as well as separate airlock entries into the bedrooms, bermed mechanical room and pantry. There is even a built-in solar oven in the kitchen.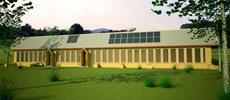 Zero Energy Four is a four bedroom version of the Zero Energy home series. This revolutionary design features zero net energy use, extremely low 'near zero' embodied energy. 1,693 sq. ft. interior plus 901 sq. ft. interior greenhouse, 4 bedroom, 2 bath; footprint: 40' x 109' not including cisterns or optional garage.
Notes about warranties, code compliance, and engineering
All floor plans, renderings and other media shown on this website are property of their respective designers, architects or artists. Earthbagbuilding.com is not liable for blueprint interpretation, or the structural integrity of buildings built from stock house plans purchased here. We provide plans for construction purposes but do not oversee the construction and cannot verify that the structure is built to necessary standards. Earthbagbuilding.com disclaims all warranties express or implied and is not liable for indirect damages of any kind including loss of anticipated profits, opportunity or other losses that may result through usage of plans or services purchased here.
The plan purchaser is responsible to assure the accuracy and code compliance with current codes and regulations. Home designs sold at Earthbagbuilding.com are sometimes drawn to comply with building codes in the area in which the designer or architect resides. Earthbagbuilding.com and the associated architects and designers do not guarantee compliance, as codes and regulations are constantly changed or updated. It is the responsibility of the plan purchaser to obtain any and all structural analysis, engineering and specifications that may be required in the municipality in which it is to be built. The plan purchaser should verify all lot conditions and measurements before construction. All sales are final. There are no returns or exchanges of plan purchases.
Some people order our CAD architectural rendering software files to make the work easier (less expensive usually) for their structural engineer, especially if separate structural sheets will be needed. Be aware that many CAD files, such as Auto-CAD, require special software to open and work with, so you may have trouble using these if you expect to open them on your personal computer without the special software.