Jorge Dominguez has been helping his friend Mark Hanson build the first permitted earthbag dome house in Hawaii. The accompanying photos were taken by Jorge during the construction of the Hawaiian house.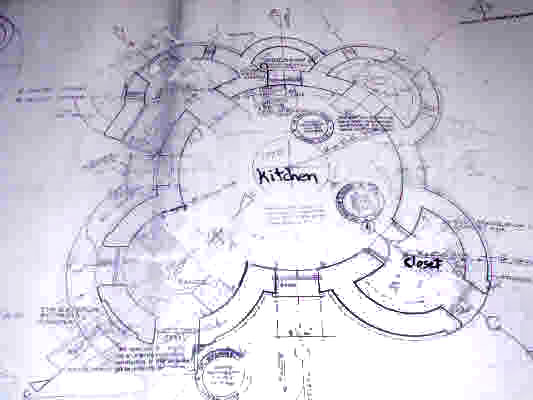 Mark purchased blueprints from Cal-Earth, designed by world renowned California architect, Nadar Khalili. He is building an earth dome in a sub-division that although is kind of rural, still requires State building code permits. It took him close to a year to get the permit approved. He did not follow Cal-Earth blue prints exactly, but made his own alteration or deviation to fit the Hawaiian landscape. Mark thinks that it really helped to showed officials something with a Cal-Earth stamp, otherwise he would have been denied. There will be two such domes side by side, each approx. 320sqft. The main dome and four niches can function as a kitchen and living area and a second dome as a bedroom or office area.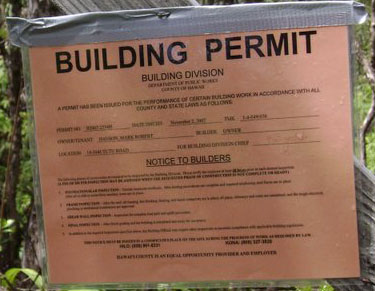 First earthbag dome in Hawaii built with all building code permits. It took Mark like a year to get his permit. Lots of patience required.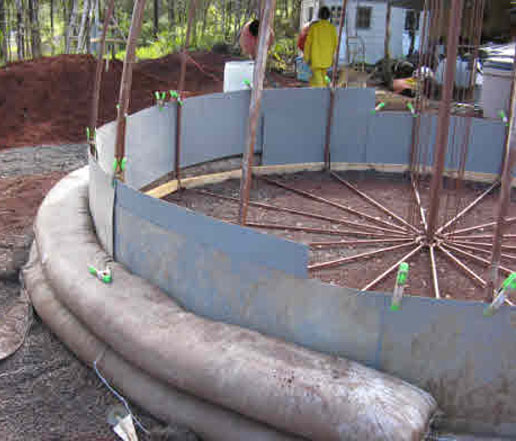 This is a disaster resistant, hurricane and earthquacke resistant dome-like clay house covered with waterproofing and stucco. Built from local earth-filled Superadobe coils of finely ground cinder, blue rock and cement, meant to last for many generations. It is tree free. I think Mark had to end up buying materials like cinder and gravel because he was limited by smallness of the property.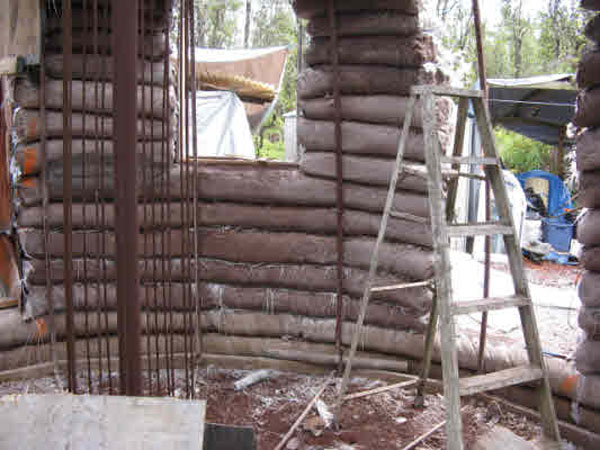 For sure Mark is using close to 10% mix of cement. I believe he has no choice, this is one of the most humid places on earth, it rains every month, I would guess like 250 days per year. My guess is that the closer the environment approaches desert conditions the less cement you use.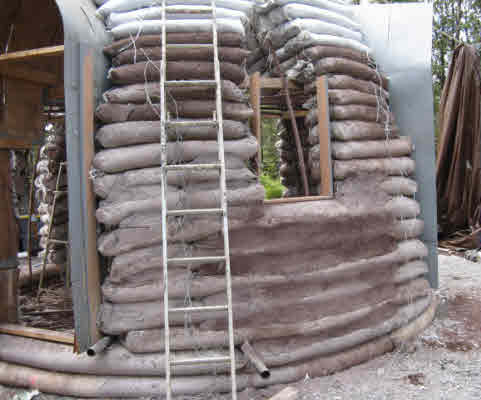 At Mark's earthbag dome in the Big Island, we had close to zero bags sliding over. Most of the time we were filling out long tubes, which is another name for a custom size big bag. Sometimes the whole row was one big tube, and as we went up the tubes got smaller. Part of my job was to use scissors to cut from the roll, and then using a needle and wire I closed one end of the bag, and then I was ready to start filling it with earth. And the big help in making sure the tubes did not slide over was use of barbed wire. When the tubes are still wet, it is guaranteed that they are going to slide inwards if you don't use barbed wire. We found that out because of drying times which took close to a day, we could not do more than 4 rows per day. We used small custom made bags on very few occasions, as fillers in difficult angles, and of course at the very top of the dome.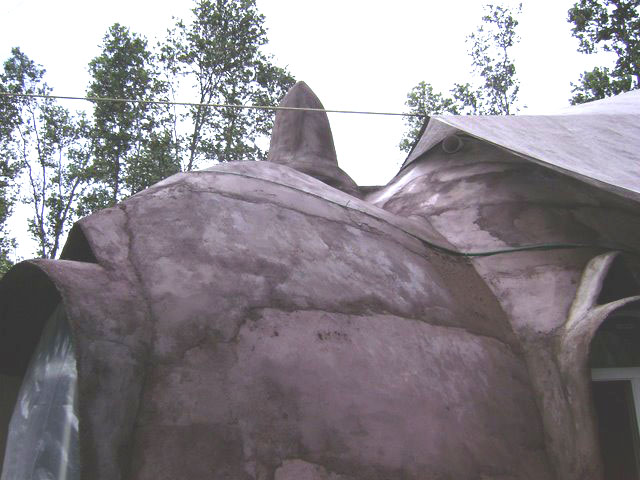 This dome is going to be sold to a retired couple. It is not meant for a family with kids. The Earth Dome is being built on an 8,500 square foot property. Mark is also trying to sell the domes, so he can purchase more land and keep building domes. He wants to provide affordable housing while preventing global warming.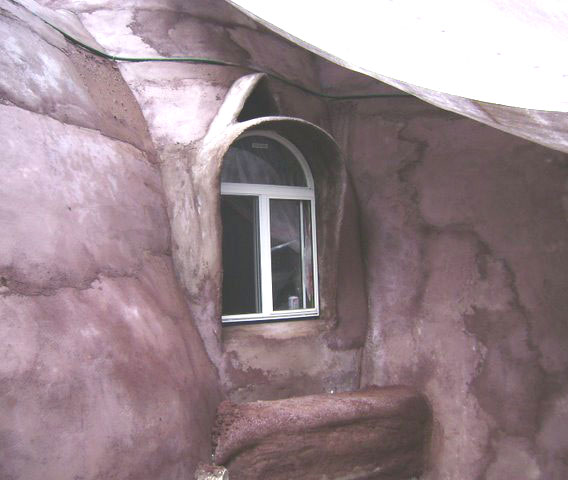 I would imagine in Hawaii the windows would be bigger than in the desert because temperature does not drop down that much at night and stays warm during the day. No extreme desert temperatures.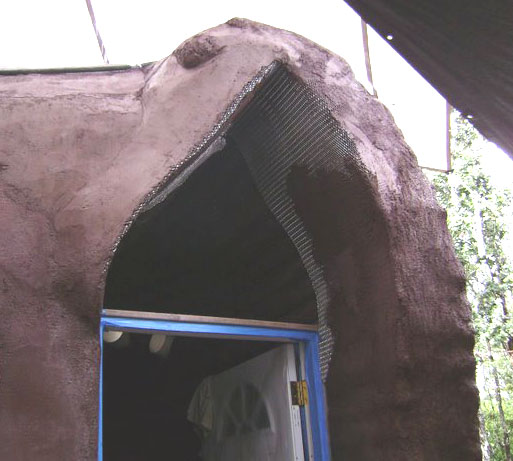 We just finished laying all earthbags for the first dome. There are going to be two domes.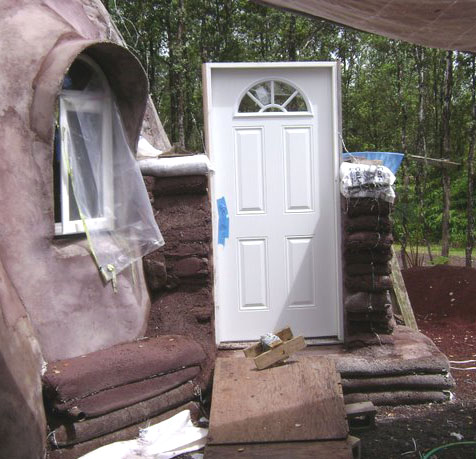 Door for main entrance.
Although door looks "natural" it is steel. I guess you can use wood, bamboo or whatever for the door.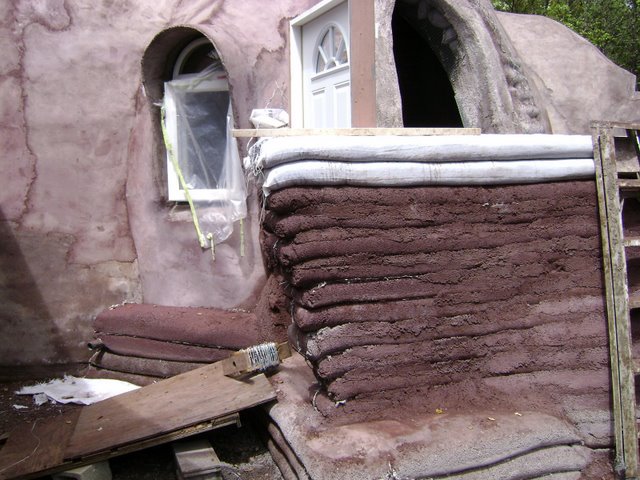 Main entrance half way done. Stucco needs to be applied.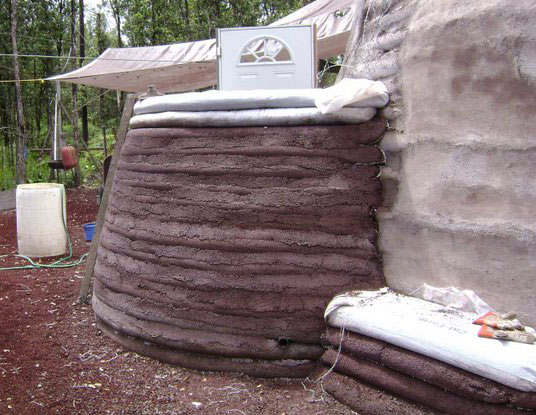 Left hand side.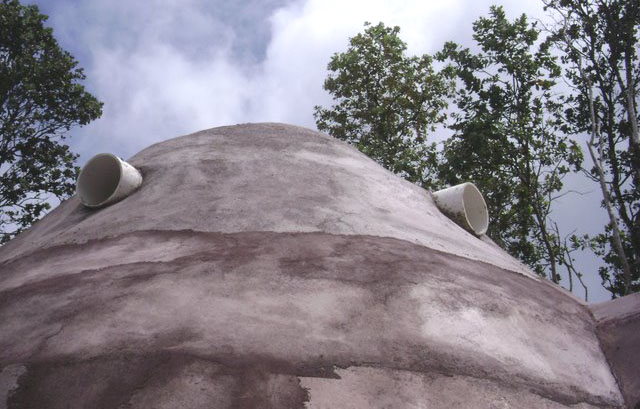 Pipes to allow fresh air in and out.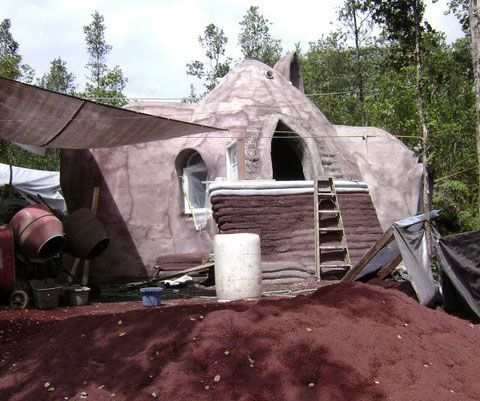 Lots of finely ground cinder .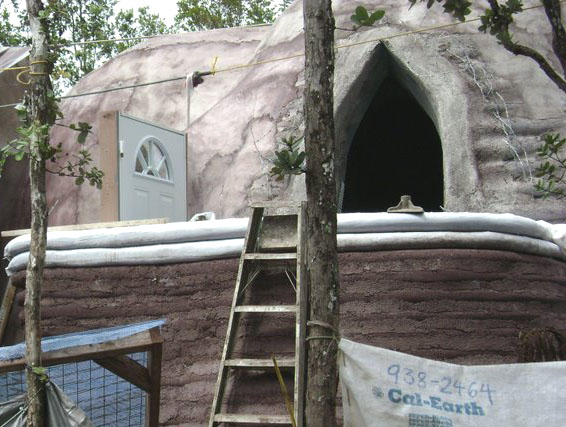 Mark's using Cal Earth bags. He claims they are superior quality than regular bags.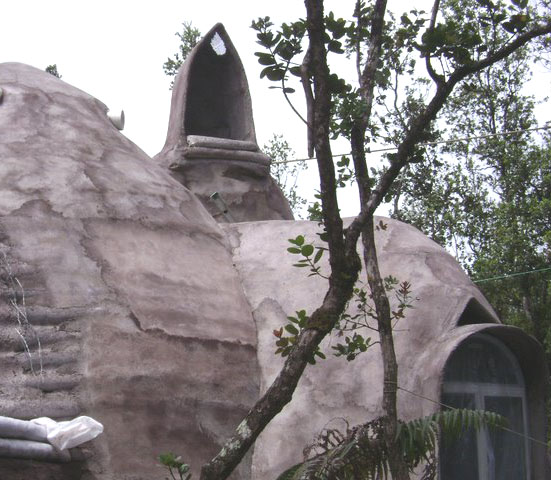 The house is cooled by a wind scoop oriented to the trade winds for maximum efficiency.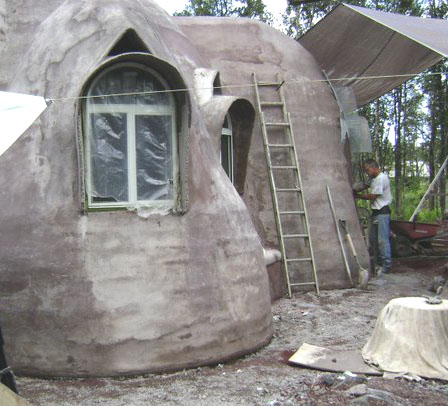 The finished structure will have concrete floors which can be kept as is or tiled. The outside structure will be primed and ready for the color of paint of your choice. The walls are 16 to 18" thick.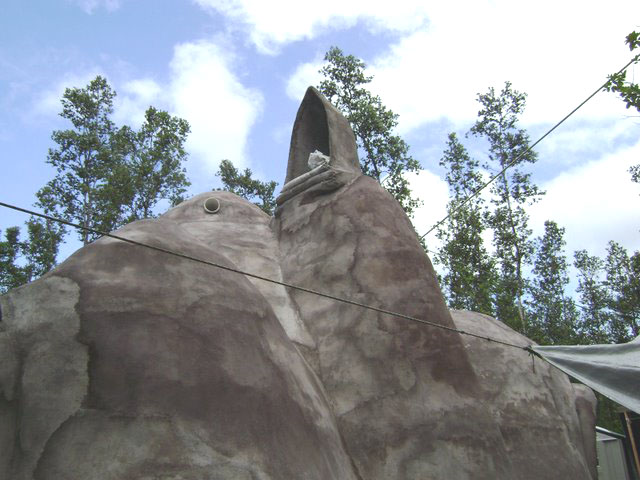 Temperature is constantly around 70 to 95 degrees all year round.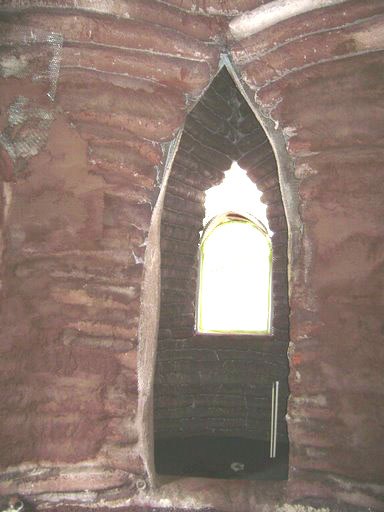 Arched entrance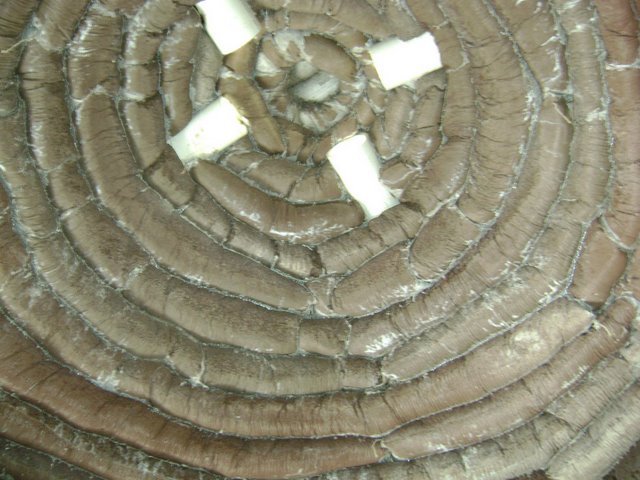 Roof top.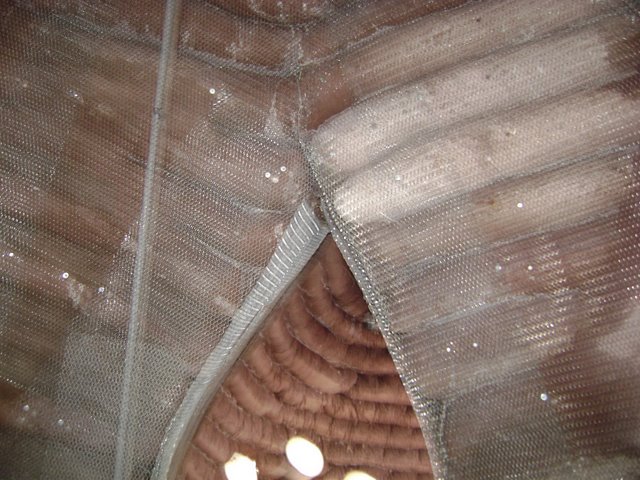 Using metallic cloth to speed up stucco job.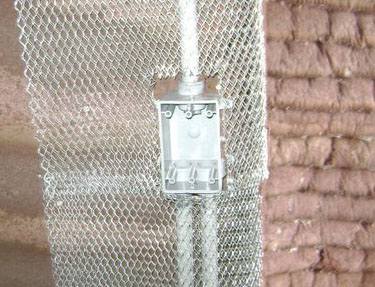 Conduit for light swithches.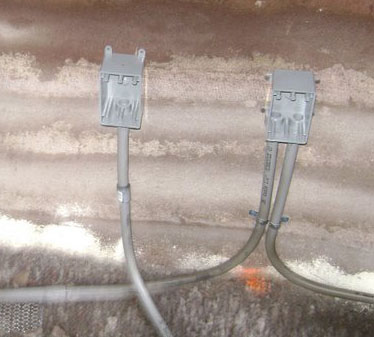 Conduit going through floor.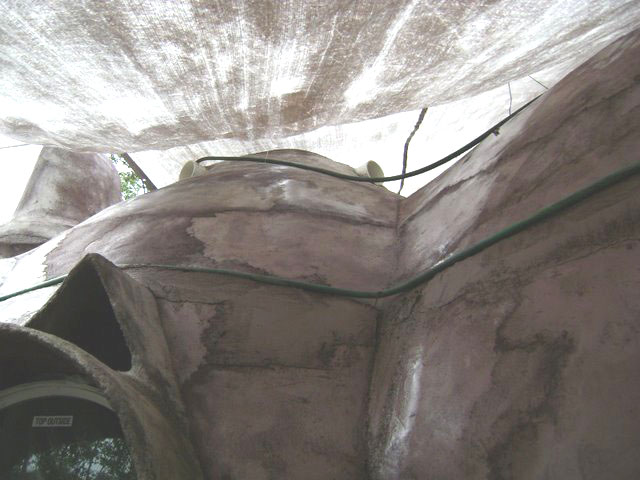 The narrow hose is not for running water. It is just to lay the gutter for rain catchment. In the Big Island it rains so much that there is no need for a well. It started raining so much at the end that we had to throw a tarp to cover dome.