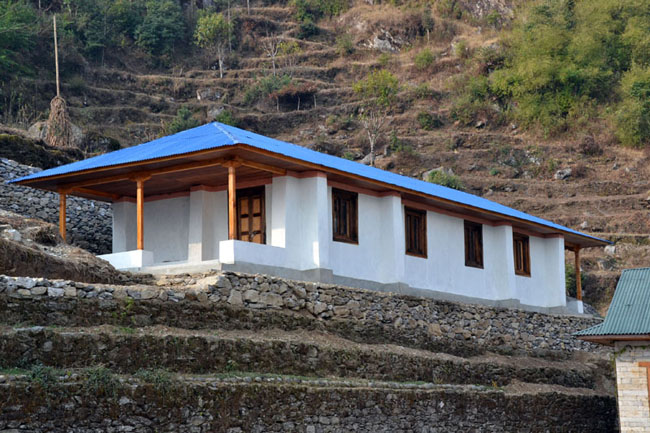 On October 31, 2011, Edge of Seven and The Small World Nepal broke ground on a two-room secondary school in the village of Phuleli, located in the Solukhumbu District of Nepal. Five months later (following a two-month winter break), we put the finishing touches on the interior of the very first earthbag structure to be built in the Solkhumbu District of Nepal. The school in Phuleli is the first of three earthbag buildings Edge of Seven and The Small World will construct in the district.
Phuleli is a village found deep in the Himalayas, with no roads or airports within an eight-hour hike. Any material that is not available on site must be portered in by humans or carried in by mules on a narrow mountain trail that leads over a pass of 10,000 + feet.
We have gone through a lot of effort to prepare ourselves for these buildings and are very happy with the way things are moving forward. Prior to these projects I had designed and overseen the construction on a more traditional structure in Nepal and then I worked with the Austin chapter of Architecture for Humanity in the design and construction of a small earthbag structure in Texas to prepare for this trip. Not to mention countless hours of research. We knew we could not come to a location like rural Nepal and just shoot from the hip and hope to get good work done. A lot of the credit needs to go to the local builders. We were lucky to partner with a great local NGO, The Small World, to help with the logistics and construction.
The directive for the small school was simple: to provide two classrooms, each 15' x 25' with an exterior space that would give students refuge from the summer monsoon rains. The building itself is 48' x 18', with an additional 9' porch on each end. The first two courses of earthbags were filled with small gravel broken by hammer from larger stones excavated on site. The remaining bags were filled with sifted, excavated dirt, which was tested and found to be of an ideal clay-to-sand ratio of roughly 25:75.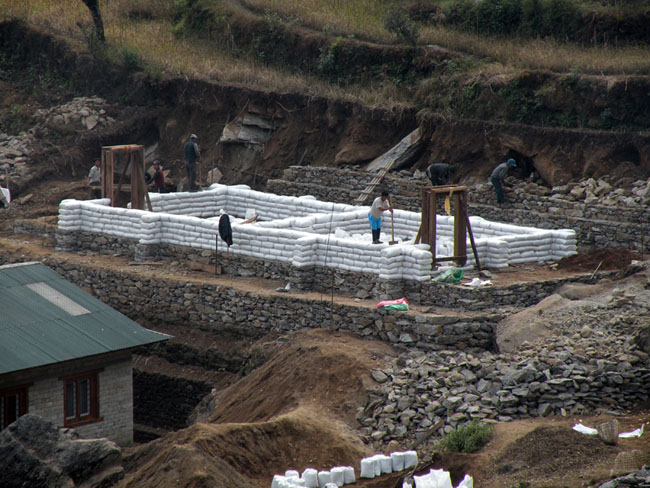 Foundation: Stone and Cement. A stone foundation was laid with a cement plaster exterior. The floor is stone and cement. We had initially planned on a dirt floor, for sustainability and cost reasons, but it was later determined that a dirt floor would not be durable in a school environment.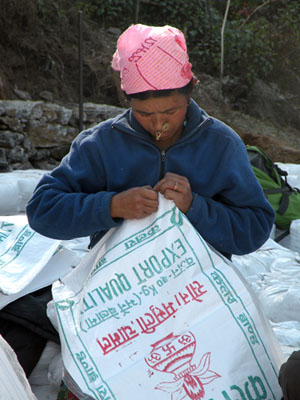 Bags: 18" x 30". Corners were diddled and bags were sewn shut with a light-gauge tie wire.
Barbed Wire: 4 point, 10 gauge. (Barbed wire used is not the ideal gauge, but it was the only size of barbed wire available in Nepal.)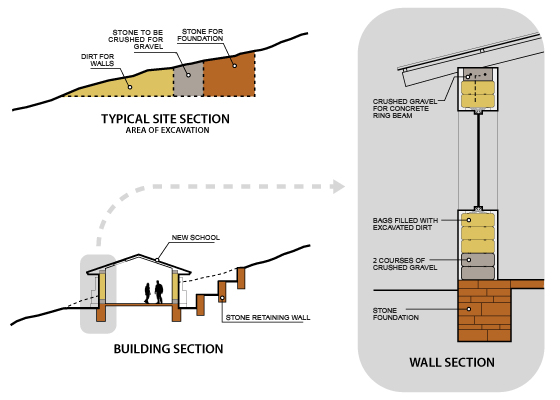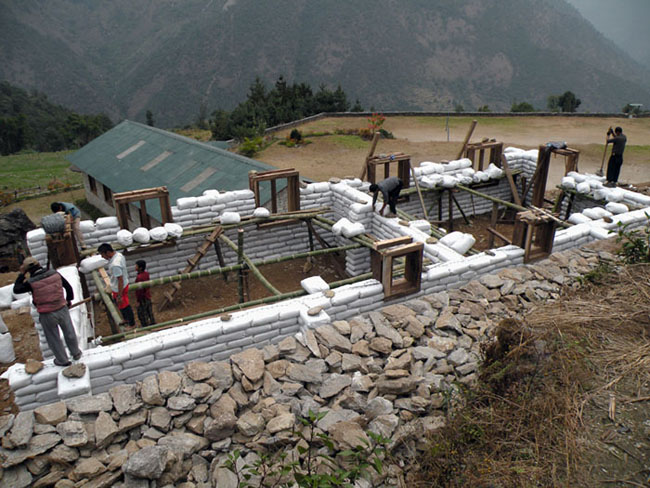 The height of the earthbag walls is 6'6"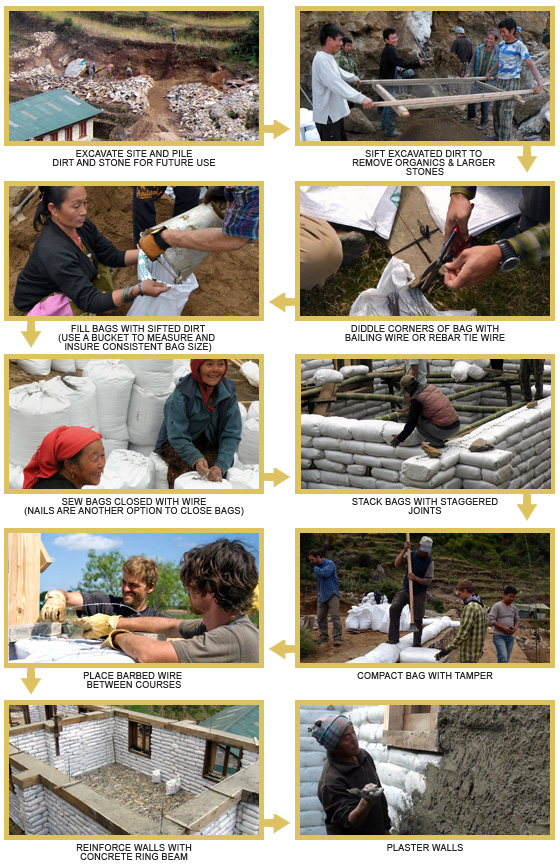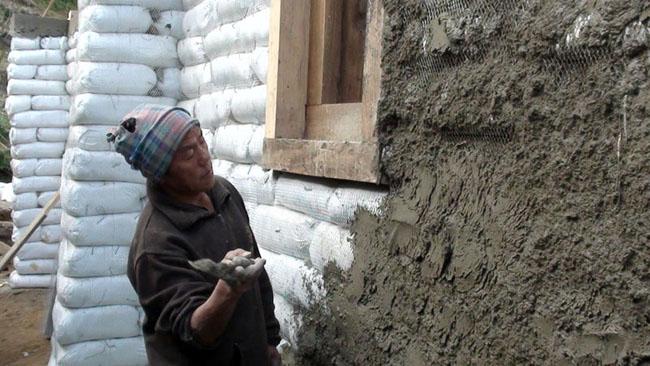 Cement plaster was used with chicken wire mesh lathe. Since Nepal is in a very active seismic zone, chicken wire is required for plastering. We used a 1:4 ratio for the plaster, but for future projects will be using at least a 1:3 ratio due to the low quality of the sand and cement available. Cement had to be trekked in by mules from the larger villages of Phaplu and Salleri, and the sand was harvested at the nearest river (located about 1.5 hours walk from the site) and sifted and cleaned on site.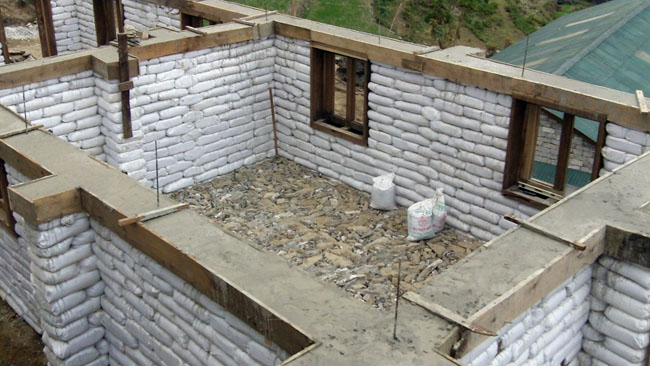 A 6" rebar-reinforced concrete ringbeam with #4 rebar.. Horizontal rebar for tie beam is connected into earthbag walls by 3'6" L shaped rebar anchors at 24" roughly 24" o.c.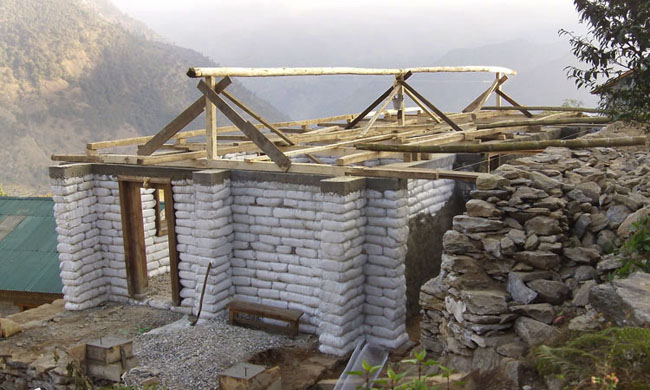 Roof: Corrugated metal with wood structure. The exterior of the soffit was enclosed with plywood due to the high winds in the region.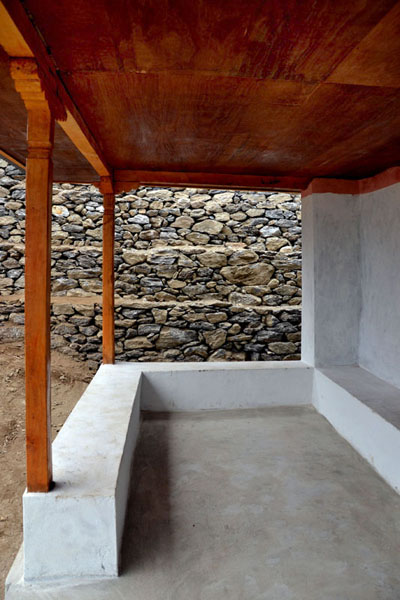 Built in Porch Seating: Built out of earthbags.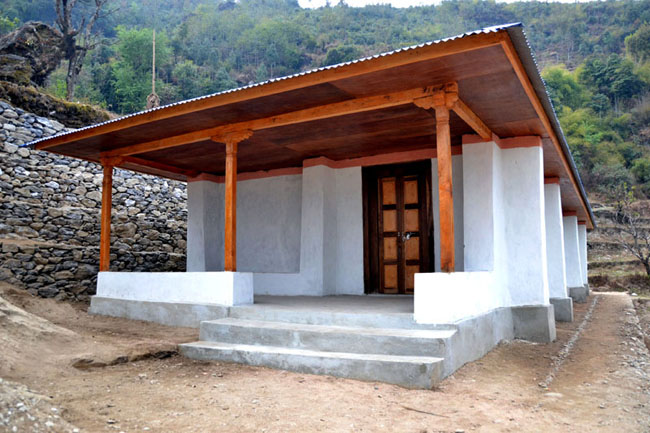 Paint: Whitewash. Liquid paint is very expensive to hike into the villages, so we opted for powder whitewash, which is the traditional form of painting in the region.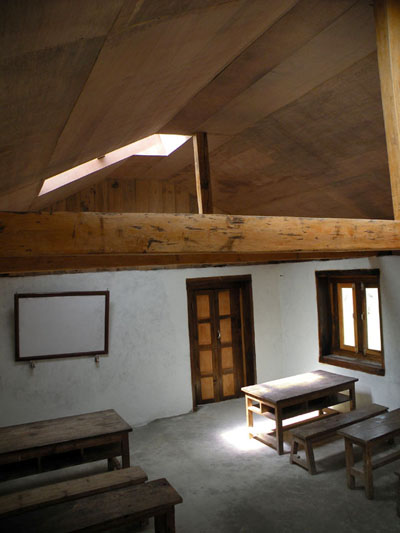 Doors and Windows: Oak. The wood used for the doors and window frames was of shockingly high quality and harvested locally. The frames were constructed in the typical Nepali manner and weigh about 300 pounds each. While they look beautiful, we will be working on reducing the amount of wood for the next project's frames.
Labor: 33% local volunteer, 33% western volunteer, and 33% local paid labor.
The actual construction time was roughly 3 months with a project cost of $22,000. The cost of building was slightly higher in the villages than other earthbag projects have reported due to site conditions and material transportation costs. A substantial chunk of our budget was eaten up by the clearing and leveling of the site, the construction of retaining walls, and transportation of cement, sand, barbed wire. etc. to the site. Looking at building costs alone we came in at $16-$17 per sq. ft., which we are confident can be brought down closer to $13-$14 per sq. ft. with more experience.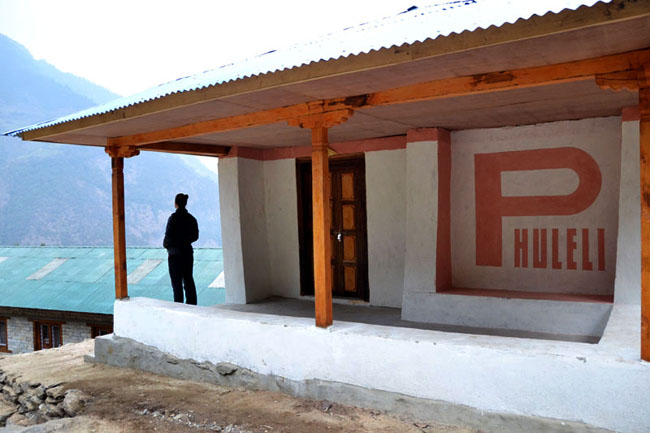 We have high hopes for the second school building to turn out even better on a reduced budget.
For anyone interested in building with earthbag construction in Nepal contact:
U.S.A.:
Travis Hughbanks
Edge of Seven
hugh2834ATgmail.com