EarthbagBuilding.com
Sharing information and promoting earthbag building
.
.
Earthquake Relief in Pakistan
by Krpasundarananda

Krpasundarananda is a Meditation teacher with Ananda Marga and has been a Monk since 1991. His first assignment was in Australia, then he was transferred to New Zealand where he worked for more than eight years teaching meditation at the universities, renovating a meditation center, organizing yoga weekends and setting up (and renovating) a retreat center. Then in 2000 he was transferred to Africa where he started to make newsletters like what is posted below. Though his main job is to teach meditation and help people to realize their spiritual goals, in many cases people don't have the minimum necessities of life, so social service has become important. As his background is engineering and he always had an interest in construction and alternative energy, he got involved with alternative building through an article someone forwarded him about Nader Kalili. In the last few years he has built many domes in different places around the world.
| | |
| --- | --- |
| | |
| Completed structure at one of the training sites | Trying a mud plaster as finishing. |
A vaulted structure, using a fiberglass, shelter for traffic police as a mould. Once finished the green box would be removed. The military was going to use our creation as a garage.


At the other training site were about 10 domes. The president was going to come and the whole site was to be landscaped and made to feel like a homey village.

Meetings about reconstruction

The tent camps where many were housed.
Way to cold for Winter!
More experimental shelters. They should be cheap, quick to build, warm and strong!
Not an easy combination. The domes do well.
So much destruction, but life goes on and a restaurant was up and running.


Plaster and more plaster. It had to be perfect for the president's visit... I think less perfect looks nicer and... is a lot less plaster!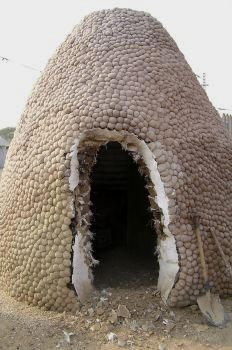 Some more plaster for the entrance...
We kept it 'organic' shape.
The opening could be square..
Some, I hope, Artistic shots...
.
.
Disclaimer of Liability and Warranty
We specifically disclaim any warranty, either expressed or implied, concerning the information on these pages. No one associated with this site will have liability for loss, damage, or injury, resulting from the use of any information found on this or any other page at this site.
For Email contact go to About Us
We are interested in communication from others who are exploring the possibilities inherent with earthbag building.
Visit Our Other Websites:
www.greenhomebuilding.com
www.dreamgreenhomes.com
www.naturalbuildingblog.com