EarthbagBuilding.com
Sharing information and promoting earthbag building
.
.
Introductory Videos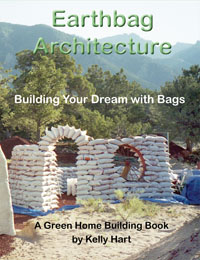 Earthbag Technology is a simple, scalable solution for housing problems in the developing world. In March 2011, this working prototype Earthbag structure was constructed in Port-au-prince, Haiti with the help of New Leaf Initiative and GrassRoots United.
Our Earthbag House -- How to Build a Fortress on the Cheap
Earthbag construction is a durable and affordable technique for building houses. The system was developed specifically with the goal of making them earthquake resistant, and they are in fact very effective at stopping most common bullet calibers.
.
.
Disclaimer of Liability and Warranty
We specifically disclaim any warranty, either expressed or implied, concerning the information on these pages. No one associated with this site will have liability for loss, damage, or injury, resulting from the use of any information found on this or any other page at this site.
For Email contact go to About Us
We are interested in communication from others who are exploring the possibilities inherent with earthbag building.
Visit Our Other Websites:
www.greenhomebuilding.com
www.dreamgreenhomes.com
www.naturalbuildingblog.com