Kelly and Rosana Hart's earthbag/papercrete home completed in 2000. This 1250 sq.ft. home was made with the earthbags filled with socria (crushed volcanic stone) and covered with papercrete plaster. The passive solar design performs well at over 8,000 ft. in the Colorado mountains.
La Casa Vergara was designed by José Andrés Vallejo and built in Bogotá, Colombia in just 5 months, early in 2011. The design explores the potential of seismic resistance with superadobe as the construction technology and contemprary design. The cost per m2 is estimated at $300 USD (about $28/sq.ft.), making it a robust alternative for housing with low cost and high bioclimatic performance.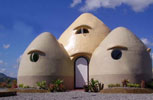 This Earthbag Clinic in the Philippines was coordinated by Illac Diaz, the young Phillipine visionary who has spearheaded many such earthbag projects in the area, including several schools. There is no text describing the process of building, but the many photos tell most of the story. You will notice that the bag material was removed after the fill had set up and before the building was plastered.

Featured are the Earthbag Domes of Akio Inoue of Tenri University, Japan. He assisted building these on the university campus, at an earthquake site near Jamnagar, India, and in Entebe, Uganda. These domes are being considered for use as refugee shelters in the region, because they provide good protection from bullets, fire, wind, and rain.

Using a technique developed by Cal Earth in California, architect Nader Kahlili worked with the Pegasus Children's Project to build a small sustainable village of over 40 "super adobe domes" to provide permanent shelter. This project accommodates 80 children, 10 staff, and a small school near Kathmandu, Nepal, in the Himalaya Mountains - the first of its kind for the region.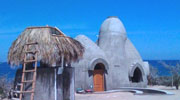 Hootenanny in Baja Together with the earth, sun, and sea, we will craft an abode of beauty, simplicity and comfort. Working together, we'll expand our horizons - how to build a safe and beautiful home for a small cost. I made the project under time, a little over budget, and am significantly happier with the result than I had envisioned. So, I'm a happy man.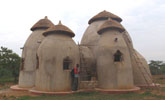 Uganda Ecovillage. In 2008 Sunny Tsai volunteered to assist a team of two architects and eight professors, under the direction of Akio Inoue of Tenri University, Japan, to construct an ecovillage by Lake Victoria, Uganda, East Africa. This ecovillage was designed by architect Kikuma Watanabe of the Kochi University of Technology.

Jorge Dominguez has been helping his friend Mark Hanson build the first Code Permitted Hawaiian Dome Home. This is a copy of a desert earthbag dome adapted to super heavy rain. It took Mark like a year to get his permit. Lots of patience required. This dome is going to be sold to a retired couple. It is not meant for a family with kids.

The Joshua Tree Home is the eventual residence of Mark Reppert. It is a double eco dome designed by Cal-Earth. San Bernardino County gave Mark a permit to build the house. The building regulations there are some of the toughest in the country. We were an international crew of builders. There were 5 core builders with extra volunteers on occasion.

The Warsaw Dome project was built in Poland as a demonstration of inexpensive, sustainable building techniques that others might employ. This is one of many such projects initiated by the Earth, Hands, and Houses organization founded by Paulina Wojciechowska, author of Building with Earth: A Guide to Flexible-Form Earthbag Construction .

Two retaining walls and the beginning of an earthbag tube dome home in Midpines, California. "Michele and Sara-Ann standing next to our first window form. We're fast approaching 3000 feet as of April 5, 2007."

John Capillo built his Kentucky Dome Home while running a workshop to teach people the fundamentals of earthbag building. The code officials were incredibly open to new things and gave John his permit without hassle. His design has a 16 foot dome with a larger circle coming off the dome that has a wooden roof.

Krpasundarananda is a Meditation teacher with Ananda Marga and has been a Monk since 1991. The Eco-Dome in Ananda Nagar, India is a showpiece to inspire other members and teachers and he hopes one or two of the laborers or visiting villagers get the idea and will want to learn more. He'll be happy to help them to build in their own villages.

Building the Double Dome in Mongolia was fun and again I learned a lot. I thought I came to teach, but then found that I have hardly any experience how to work with a bunch of unruly teenage boys and girls, what to say...I didn't even speak the language! The kids are very proud of their work and the dome will be used for teenage programs.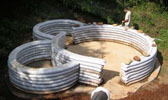 Mickey Mouse in Morelia, Mexico We should get sponsorship from Disney Land... Mickey Mouse is easy to recognise. Oops, they may charge us royalties.

The Sandbag Shelters of Nader Khalili I will show you what to me, is an exellent way to made architecture, how we can make, with few and natural resources, great space design, and at the same time, solve differents social problems, one of the principal motives and preocupations of modern architecture.

Tim Hall's Earthbag Home in Hawaii shows, mostly in pictures, how a CalEarth-style Superadobe home was built, using cement-stabilized tubular bags that were then burned away before the building was plastered.

Just east of Bisbee, Arizona this
Ransom Ranch Dome
project was completed after studying and admiring Nader Khalili's alternative building work since 1985. I finally apprenticed with him at Cal-Earth in November 2007.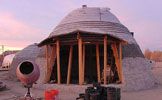 This Dome Experiment with Large Windows has a 24' inside diameter at the base, rising on a 'catenary' curvature to sloping truncation around 16' above grade. This was attempted as a fairly aggressive exploration of structural potential with this system in several capacities, and quite cognizantly surrendered to the tests of time. I can only stand behind this as an artist of sorts, as it is beyond most established protocol of construction.

This Community Center in Haiti will be for the Mango Grower's Association, and the village of Barriere Jeudy, as well as a hurricane and flood shelter as the rainy season picks up. The building of the center is also functioning as a building workshop, or a skill-share to introduce local builders and residents to the super adobe building technique.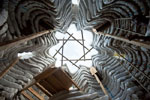 Monique's House in Haiti Monique was the woman who had given birth to a baby girl during the building of the above community center and we wanted to build her a house. We sent word to her and her extended family that we would be returning and asking if indeed she would like to live in a house of the style we are creating. The answer came back affirmative.
Anyone who is involved in an earthbag project who would like to share this with others through these pages, please contact us. Email: kellyhartATgreenhomebuilding.com with information about your project.