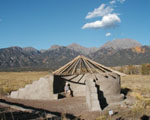 "Our Glorieta would be a sort of glorified gazebo that would emerge directly from the soil beneath our feet. Since the conference was about sustainability, I felt it was important to honor this by using local materials as much as possible. With my experience in building with earthbags (recycled misprinted polypropylene rice bags), I knew that it was possible to fill these bags with the fine sand that the entire hill was composed of, and create an actual building."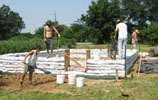 Sandhill Farm built a greenhouse in rural Missouri using earthbags for the base of the wall structure. They chose a 30ft x 20ft area, centrally located among the gardens, with good southern exposure. After three days of earthbagging, they were ready to begin framing the top part of the walls. Light straw clay was used to insulates the north, northeast and northwest sides.

"Our first building experience with this style of construction was accomplished by building a kitchen to compliment the tire house and to learn first hand these building techniques before building classrooms at the Technico Maya school project in Guatemala. A cool-storage pantry for fruits and vegetables will go in the back corner of the kitchen where it meets the tire house."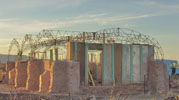 This Large Arizona Shop Structure, designed and built by John Annesley, expresses his concern for building solid, sustainable buildings. He has a "a strong interest in alternative construction techniques that fundamentally make sense even if the 'how-to' phase hasn't been documented for decades and accepted into building codes."

"We will build a small extension to our cob studio using earthbags. The purpose of our small extension is to create a wind break for our entry door into our studio. We also want to use a small space for a bath area. We will enclose the south with glass to allow solar gain in for warmth. When the desired wall high is attained we will secure the top with a rebar-reinforced concrete bond-beam."

The Thunder Mountain Ceremonial Building at the heart of the Peaceweavers' property boasts a SunRay Kelley round-log timber frame. The ceremonial building's frame has since been filled in with strawbales, cob and an earthbag entry arch, all covered by a two-tone lime finish.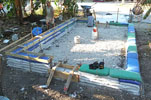 Builders Without Borders assisted with creating this Earthbag Foundation for the first strawbale house in Haiti. Many of the bags were sewn from slavaged tarps, the bales were compressed by hand from local rice straw, the roof trusses were partially built from used wooden pallets, and the floor and plaster is earthen.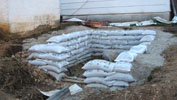 Karl's Root Cellar is made partially from earth bag construction. The nice thing about this method is the bags breath proper humidity and don't require a poured foundation. He made the roof arch from ferrocement. He opted for this instead of using bags to create his arch because he plans to pile a bunch of dirt on top of the root cellar and he believes this will be stronger.
Ilse Ackerman of Los Angeles built an outdoor lounge area with fire pit in three months with inexpensive soil-filled sacks called earthbags. The result: a quirky backyard feature that Ackerman, husband Meeno Peluce and daughters can enjoy. Here's a step-by-step look at how Ackerman built it.

Don Stephens has been experimenting with building a Rice Hull Studio. He says, "I thought you might find this photo of interest...it's the bag-walled studio I'm mentoring/assisting the owners in building here in Spokane. The bags are just filled with packed, dry rice hulls and they are load-bearing, holding up the insulated bondbeam at the top and the poured-in-ricehull-insulated roof."

The Fleming College Sustainable Building Design & Construction Progam project in 2008 was the Madoc Performing Arts Centre. The earthbag grade beams that supports the main octagonal space are composed of woven polypropylene sack material that were obtained as a continuous tube. These tubes are filled with a site soil mixture of gravel, sand, silt and clay and then compacted firmly.

The Cabinetlandia Library was built using earthbags to secure a three-drawer filing cabinet into a mound in the New Mexico Desert near Deming. The library is equipped with all issues of Cabinet magazine and other assorted paraphernalia.

The Earthbag project at CNBW was a Patio Wall in front of the Casita. The wall features an arched doorway. The bond beam is made from a long bag. A long bag is the uncut tube from which the feed bags are made. Because it's not rejected material, it's more expensive than the individual bags. Once the wall and doorway are completed, the forms can be removed.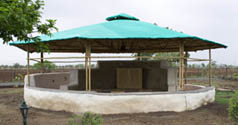 Kaleidoscope is a structure meant for arts, crafts and music for children, built at the Aman Setu school campus at Wagholi, India. The Kaleidoscope was designed to keep the embodied energy low; all materials were procured from the same locality with a conscious effort to reuse discarded material. The earthbags are discarded cement sacks, the infill material consists of earth dumped at adjacent construction sites. A variation of this design built in Rawanda can be seen in this PDF.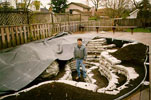 "I thought I would share with you a project I undertook converting a swimming pool to a pond. I moved into a house with an swimming pool near Portland, Oregon. I was always fond of ponds, and in fact, had built my first fish pond at my previous house. I always wanted a larger pond and here was my chance."
The mandala is an archetypal image seen all over the world; it is thought to be a shape of healing. When attempting to assist disaster-stricken areas, local people were very pleased with village planning that was shaped with mandalas. These are some conceptual plans by Kikuma Watanabe for projects in India and Afghanistan.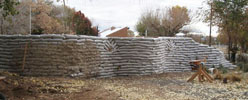 The Sunflower River Wall is curved in a ratio of 1:3.5 (one foot of side-to-side for every 3.5 feet of length), which will mean we do not need to use pillars or pileasters because it will remain stable without them. We like the sinuous snakey thing going on here.

Here is Sierra's Raised Planter. She used a natural plaster of sand, pure clay and cattails. The great thing about this garden bed vs. other ones made out of wood is that no chemical preservatives are leaching into the soil. Another advantage is you can sit on it. Also, it will last many more years than a wood frame.

A Garden Bed Made with Sheets. We were looking for an easy, cheap and relatively quick method of building a wall to create a raised garden bed. Earthbag building is essentially rammed earth in a fabric form. There is a wide range of materials the bags can be made from depending on what you can get your hands on - hessian, old feed bags or, in our case, old sheets.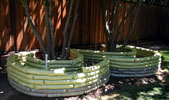 Beth's Earthbag Construction Project is a series of planters. She finds a great advantage to these bags over straw bales because she can shape them any way she likes, and they don't need a special plaster covering to accommodate air exchange. They are better than brick because she can start on uneven ground and end up with a level wall without going through a huge engineering hassle.

An Earthbag Raised Bed Garden shows how folks at The Farm in Tennessee built a simple garden bed with tubing. They dipped burlap in a cement slurry to coat the bed for a final finish.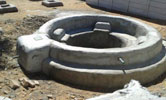 This slpash pool was built in a small village in the Northern Cape in South Africa. We decided on the sandbag method for various reasons. Due to the remote location, it would be extremely expensive to get a swimming pool contractor to build us a pool. So, with the inspiration of this website, I realised we could do this ourselves. Making use of unemployed, unskilled labor, putting back into the community. Polypropylene bags were easy and light to transport to the location. No electricity was used, only hand tools.

I decided to build a simple recessed cellar in my yard that would serve a variety of functions, including rainwater storage, root cellar and space for vermiculture (worm bins). All of these require relatively cool but not freezing conditions, so digging into the ground was a good way to accomplish this. It seemed like the easiest approach would be to build this primarily with earthbags.

Sam and Alex, who live in the U.K. built this earthbag seating area. They say, "Your site has contributed to helping us do this. We would like to share our project with you. Although small in comparison to the buildings we have seen, it is a very large seating area which we are very proud of. We just hope it withstands the U.K. winters!"
Anyone who is involved in an earthbag project who would like to share this with others through these pages, please contact us. Email: kellyhartATgreenhomebuilding.com with information about your project.